Word of mouth share stories and tales, but actions speak louder than words… and with our September retreat already booking up, who could prove their love for it more than our returning customers?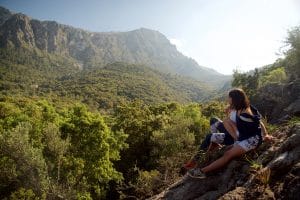 In May we ran our first Wellness retreat in Mallorca. It was such a success that we are running it for 5 days on the 20th-24rd September and again on the 4th-8th October!
 Come and join us for five days of yoga, sun and relaxation. The perfect mini escape, to rejuvenate your mind and body.
Come and join us for five days of yoga, sun and relaxation. The perfect mini escape, to rejuvenate your mind and body.
In Partnership with League Collective, be ready to expect a day full of excursions, motivational fitness routines, combined with the perfect level of 'chill'.
Although we have mapped out the days ahead for the perfect balance of yoga, excursions, delicious food and rest, everything on this retreat is optional. So whether you fancy a mountain hike or lounging by the pool, the choice is always yours…
Where you'll be staying:
Can Melcion.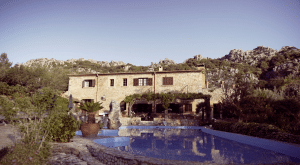 This large luxury villa in Mallorca is set in the beautiful mountainous countryside just outside Pollença, with magical views towards mountains on one side and rambling countryside on the other is the perfect secluded getaway for anyone wanting to escape. Inside, it's supremely comfortable with ample space to lounge and soaring ceilings to let in light. Wander out into a garden brimming with Mediterranean shrubs and trees, soak up the sun poolside or ace it on the tennis court. A peaceful holiday hangout, with a newly installed Yoga lawn with views of the entire valley.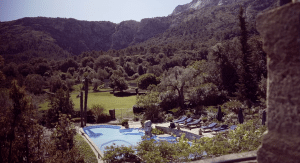 During our stay, we will have the whole villa to ourselves. There are 5 large double rooms, each with a queen-sized bed and en-suite bath or shower, and one large room with two single beds and an en-suite. The villa has loads of terraces, like viewpoints  from every direction, and a meandering swimming pool with an endless line of sun loungers, perfect for soaking up some rays throughout the day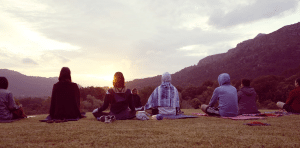 A typical day (These are approximate timings and may Vary):
6:40 Meditation
7:00 Run
8:30 Yoga Flow
10:30 Breakfast
12:00pm Hiking (or other optional activities / Yoga Workshop tennis tournament / twister)
4:00pm Hiit (every other day)
5:00pm Yin in the evening 6:30pm
7:00pm Dinner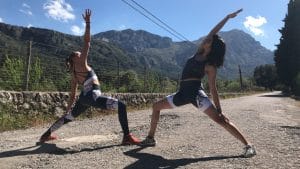 Over the course of the retreat, there will be two 75 minute yoga classes on offer per day, and a workshop to focus on areas chosen by you. The teaching will be shared by Lea and Lily over the weekend – one will be teaching whilst the other is assisting.  There is a newly installed Yoga lawn with views of the entire valley, plus plenty of large terrace areas surrounding the house where we will be holding the yoga classes.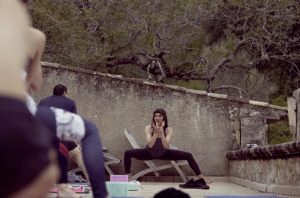 The mornings will begin with a dynamic, energising Vinyasa class; the perfect way to start your day! You can also join us for morning run prior to that. After a wonderful breakfast, you will then have the opportunity to take part in a workshop that will help to deepen your practice – physically, mentally and spiritually. Once the day is drawing to a close, we will round it off with a nourishing yin practice to help you wind down and relax. After dinner, there is plenty of time to get to know each other, be merry, dance, play games or even watch a movie or two!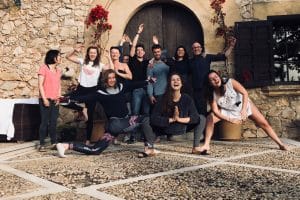 The classes go hand in hand and are designed to provide the perfect balance throughout your time with us. However, if you wish to sit out of any activity, you are more than welcome, it is your holiday, so you can do as little or as much as you would like!
The Food.
Your stay will be catered for by the incredible in-house chefs at the villa, who will prepare fresh and creative vegetarian meals every day, much of which will have been grown in the Villa's very own garden. There will of course also be some incredible yogi snacks on offer throughout the day. If you have any dietary requirements or requests do let us know, and we will work to organise alternatives.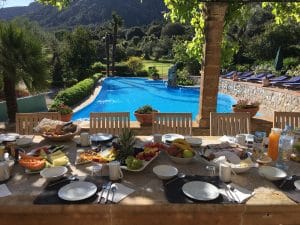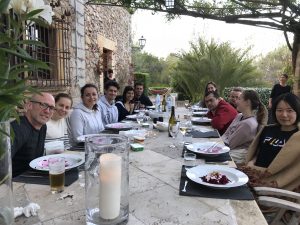 What else? During the day, there will be plenty of time to chill, chat or wander around. If you would like to move more, Lilly and Lea will offer daily runs and HIIT sessions. If you are seeking for more quiet time, you can join in the morning meditation sessions or find a quiet spot around the villa whenever you need it. We will also be organising hikes to the nearby mountains.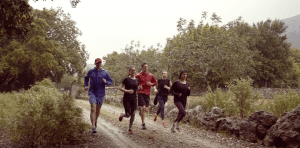 20th-24th Septemeber
or 4th- 8th Ocotober
Early bird £850
Standard £950
Deposit: £450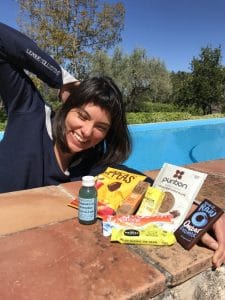 (Some of our amazing sponsors that you can find treats from in your goodie bag! Primal Pantry, Ombar Chocolate, Spatone Iron, Hippeas Crisps, Bumble Zest Drinks, Purition Protein powders, Rescue Remedy, LoveChock and many more…)
Room choice on first come first serve basis so book soon! 

Everything is included except transport

What is included?:
Two yoga practices a day (one dynamic, one yin)
4 nights in the beautiful villa (accommodation is shared)
2x main meals per day, snacks, teas and coffees provided throughout
Local hikes, runs and HIIT training with us
Free wifi
Pool, tennis court, music system, board games
A goodie bag from League Collective!
There is also car parking if you're coming by car
What will I need to pay for?
Flights, transport to and from the airport.
Any extra excursion you'd like to take in your free time
Now that you've seen even more about the incredible holiday offer, Don't hesitate to book your space for you and a friend or a loved one, or even just you!
Drop either Lilly or Lea and email on:
[email protected]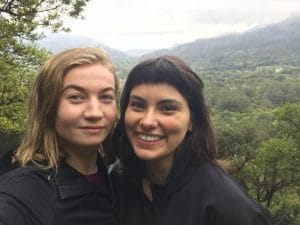 Lea's bio.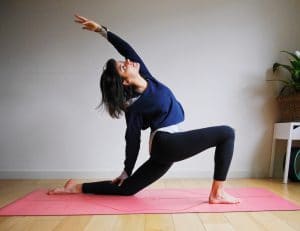 Lea Schlanz is a yoga teacher, with a degree in psychology and a Masters in Mindfulness: Neuroscience and Clinical Psychology. Lea has also finished a mindfulness meditation training last year with Michael Stone, a course that has deepened her own meditation practice as well as provided her with great knowledge and skills for facilitating mindfulness meditation to others.
Lea's dream is to combine the practice and philosophy of yoga with the western medical and psychology world. During her post-graduate studies, Lea explored the possibilities of implementing yoga classes into patient activities on mental wards and is now continuing to use yoga in the treatment of mental conditions such as schizophrenia.
Lea completed her 250-hour teacher training in Canada during 2013, which was grounded within Ashtanga, Classical Hatha as well as Hot Yoga with Jason Lu and Karin Charutz.
Lea teaches a playful and dynamic vinyasa class that will make you breathe and work all areas of your body and mind. She is a fun and smiley teacher aiming to enable her students to get out of their comfort zone in a fun and safe environment.
Lilly's bio.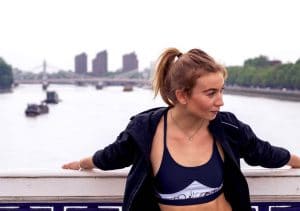 Since practising yoga from the age of 16, Lilly trained in Kuala Lumpur, Malaysia and Tbilisi, Georgia where she helped set up a Yoga Shala and became a 200 hour Yoga Alliance Certified Teacher, specializing in Vinyasa Flow.
Teaching for 6 years and now based in London, teaching weekly public and private lessons, she has continued to develop her knowledge and understanding of many different types of Yoga, completing the Ana Forrest's Advanced teacher training in 2013, the triyoga 'Tapasya' Hot teacher training with Kristen Campbell and Pregnancy Yoga Teacher Training with Nadia Narain in 2014.
Lilly has since continued her study to specialise in Yoga for sports therapy after training with Jim Harrison last year. She now works with athletes and cyclists to help them aid their sporting ability through strength conditioning and finding a greater range of mobility.
She is greatly influenced by teachings of Bhakti (devotional) Yoga from her continuing self-study with Stewart Gilchrist and Aram Raffy. She is also forever grateful to her teachers further afield; Raymond Lim and Jaqueline Koay.
Lilly's Classes are dynamic and energetic with not so much challenging postures as there is a continuous focus on breathing a creating a constant flow of movement, bringing your full attention to your practice, leaving you to feel rejuvenated and refreshed at the end.
To book your space CLICK HERE  or on the chosen retreat below. You can also email [email protected] For more information.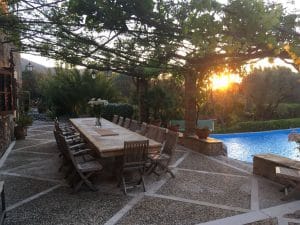 ---
Bringing you stories to inspire, motivate and achieve. Lets create your sustainable life.
All author posts