Summer is approaching and as we enter June, the race is on for Candice.
Our second League Collective ambassador, (along with Svitlana) will be taking part in Tribe's Run for Love II, from Sarajevo to London, crossing 2000 kilometres across Europe to raise money for the fight against human trafficking. Training is now in full swing.
To find such inspirational women based in the heart of London who are endeavouring to explore every end of the earth is one thing, but when you finally get to sit and chat with them, you truly realise just how amazing they are as athletes, but most of all inspirational individuals.
Candice Baroux, from the countryside near Lyon, France ("where there are more cows than humans!") has an enticing energy about her. Her beaming smile engulfs you, and invites you to join in. An invitation you cannot decline. Her energy lifts the room, leaving you feeling motivated and positive, after only having a coffee with her.
After a business degree in Grenoble (1 hour from the best ski resorts in the French Alps!), an exchange program in Germany and the US; Candice moved to London to start work with a start up called Yogi2Me, a yoga app which brings yoga teachers to your door (The Uber of Yoga!). She is their Marketing guru.
After an active upbringing, it is only natural she has continued this action packed lifestyle on into her adult, daily life.
"On the evenings, I will have my dance/running training or a yoga class… and on the weekend if I'm in London it would be pretty much the same: more dance, running or yoga! If I'm not in London, I would have escaped for a weekend away to see some friend(s somewhere in Europe or you will find me on a surfboard in Fuertaventura or Portugal!"
Candice – or, better yet "Candoo", as her friends call her, a fitting nickname to her strength and determination – or did until the Nappy brand was launched on French TV. Fittingly, she, began her dancing career at the age of 3, and when she moved to London she began doing Yoga. As for the running bug; Candice did her first proper miles when living in Luxembourg…
"I remembered buying my first pair of Nike's and hating their look…until I got used to their shape, but did my first 10KM race and fell in love with my pinky trainers!"
Since moving to London, Candice joined the TRIBE community (a London based running club). 2017 has been a big year for her so far, and after completing her first ever full marathon last month in Annecy, France, finishing in an incredible 3 hours 46 minutes, she now embarks on her biggest Marathon to date – 2 days long to be exact. We decided to take a deeper look into how she managed to take on such great feats throughout life. (Duracell Bunny comes to mind more than Candoo Nappies, thats for sure…)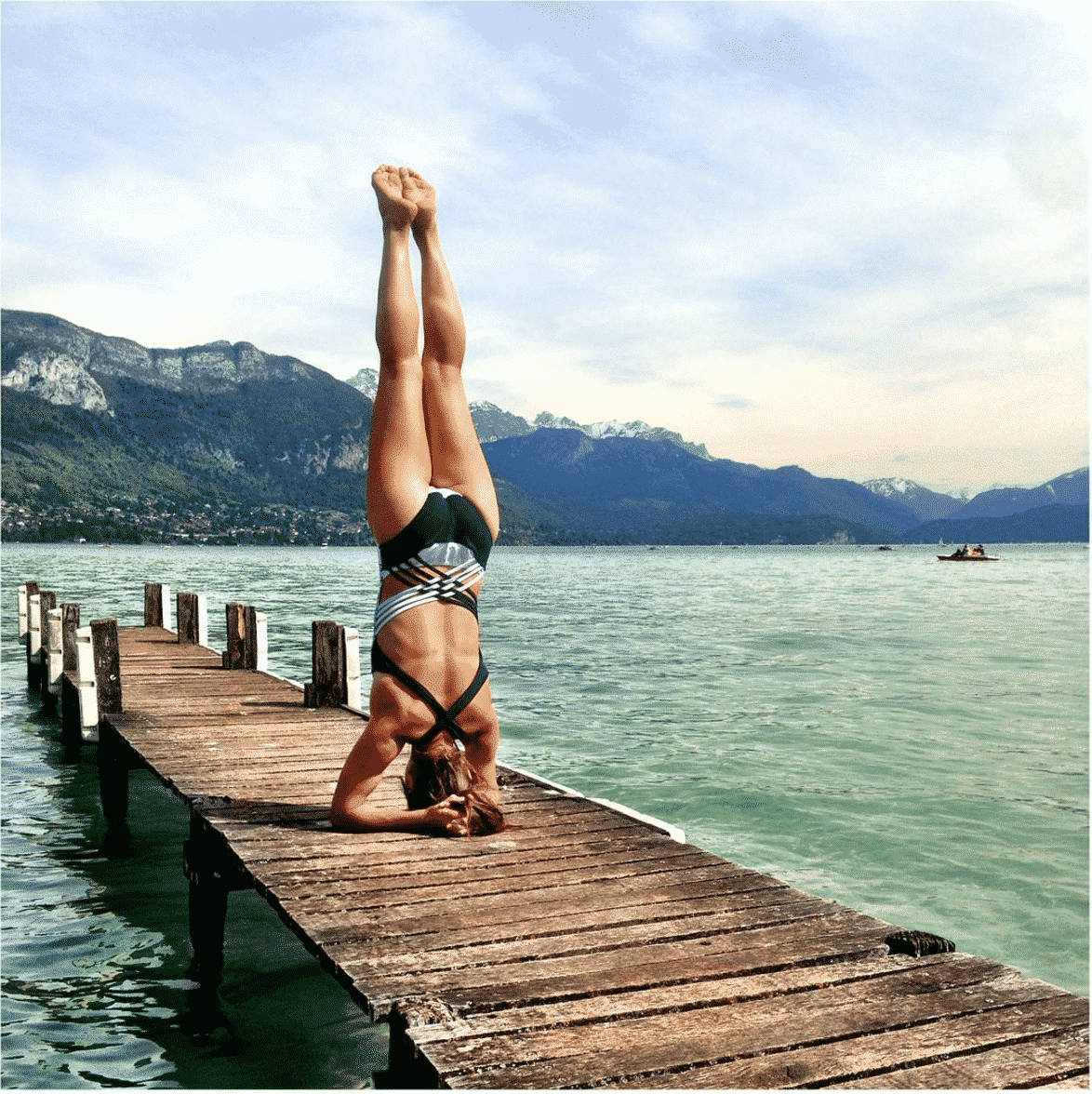 (Above: Candice in Annecy post Marathon wearing League Collective One-piece)
"I will say that I try to smile and laugh as much as I can on a daily basis…Trying to embrace life as much as possible. As cliché as it sounds, you only live once and it's now or never to experience all the beautiful things life gives you!"
"I don't have any long term goals in term of running. I will see what challenges will be crossing my way; it's more like opportunities arising than projects planned. I wouldn't never have thought to run a marathon two years ago…so let's see what life will bring me!".
Although there are no long term plans set, Candice is clearly smiling at the universe the right way, for the opportunities she appears to be embarking on seem endless and incredibly exciting…
Run for Love II is a 2000km duathlon from Sarajevo to London undertaken by members of the TRIBE community, with the aim of raising £1million to fight human trafficking. The trip is divided into four stages, with runners and riders able to join for as much or as little of the journey as they choose.
The duathlon is an extreme physical challenge, and is not in any sense a formal, marked race with water stations and medical support. Runners and riders are expected to be fully prepared for this.
Candice (and Svitlana) will be 2 of 50 people taking part on the first stage of the race on 30th June to 5th July, running from Sarajevo to Zagreb – averaging a distance of 35 miles a day.
"I'm not physically (and also maybe mentally) ready to do the whole thing, but I will join this epic adventure for the first two days! It will still be a massive challenge for me, as it represents 2 and a half Marathons in 2 days!"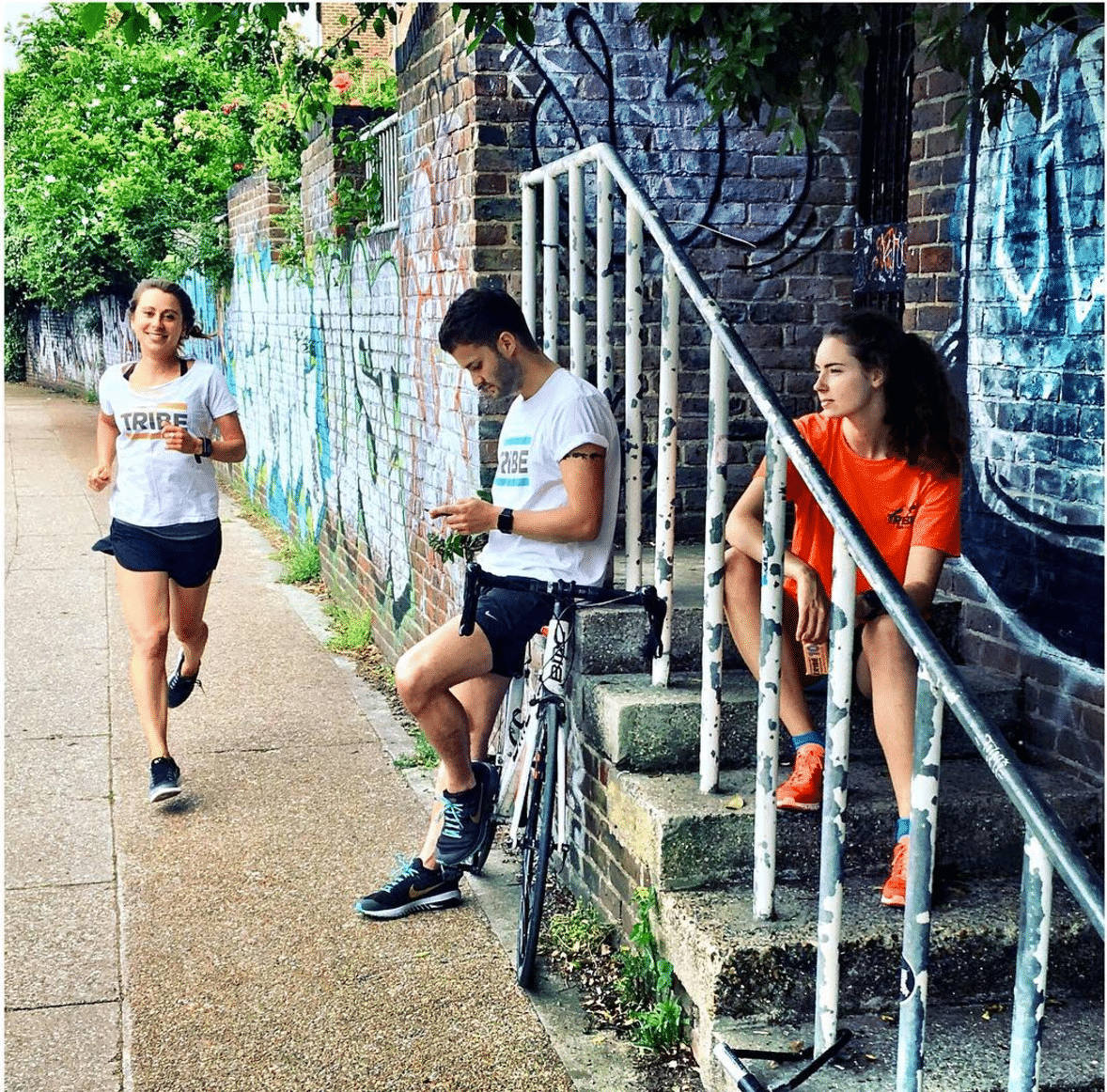 (Above: From left – Candice running with TRIBE, Svitlana right.)
"Running was at the beginning a good sport to do for staying fit and getting rid of the negative vibes if I was not able to dance. Then, slowly, it becomes a real passion and a way to discover new places. That's one of my favourite things to do when I'm in a new country/city: finding a nice running loop and trying to find a hidden gem.
Obviously the feeling post run when you are full of endorphins is a good addiction that keeps me going. ;)"
With enjoyment leading the way for the motivation and passion behind Candice's physical exertions, it's hard to believe she will ever stop, and no doubt keep coming back.
For anyone ever unsure about taking part in a marathon or worrying about it at all, 'Candoo' is definitely the candidate to inspire you. Here she has written her first marathon experience, so you can get a glimpse of just how enjoyable you might be able to make it!:
General de-brief of your first marathon experience
My first marathon was at the end of April in France around the lake of Annecy (an hour from Geneva). I couldn't have picked a better spot for my first 42,195K; the road was absolutely stunning and we got really lucky with the weather (not too hot, not too cold, with a sun shining!).
My cousin joined me on this challenge and we had such an awesome experience together! My aim was to finish the marathon under 4 hours ideally, but I would have been still happy up to 4 hours 15! With the excitement on the day, we managed to keep a pretty good pace and finished it in 3 hours 46 mins! So happy with my time (but damn it why did I stopped for so long at every drinking station?! One minute earlier and I could have be in for the London's good for age time). But actually, it's all good; because the only really thing which matters is the amount of fun that we have in a race.
For the first 30Kms we were bouncing, doing the wave when passing in front of the spectators, shouting the name of other runners to encourage them.. then we hit the "Wall" and struggled a bit the last 10Km but still managed to race it to the finish line hands in hands!
I couldn't ask for a better first marathon! Obviously the next two following days, the stairs were my worst enemy but a good sport massage and some rest did the job. Now, I'm back to training for Run For Love!
We can't wait to follow Candice and Svitlana's story with their next race, along with all their future experiences.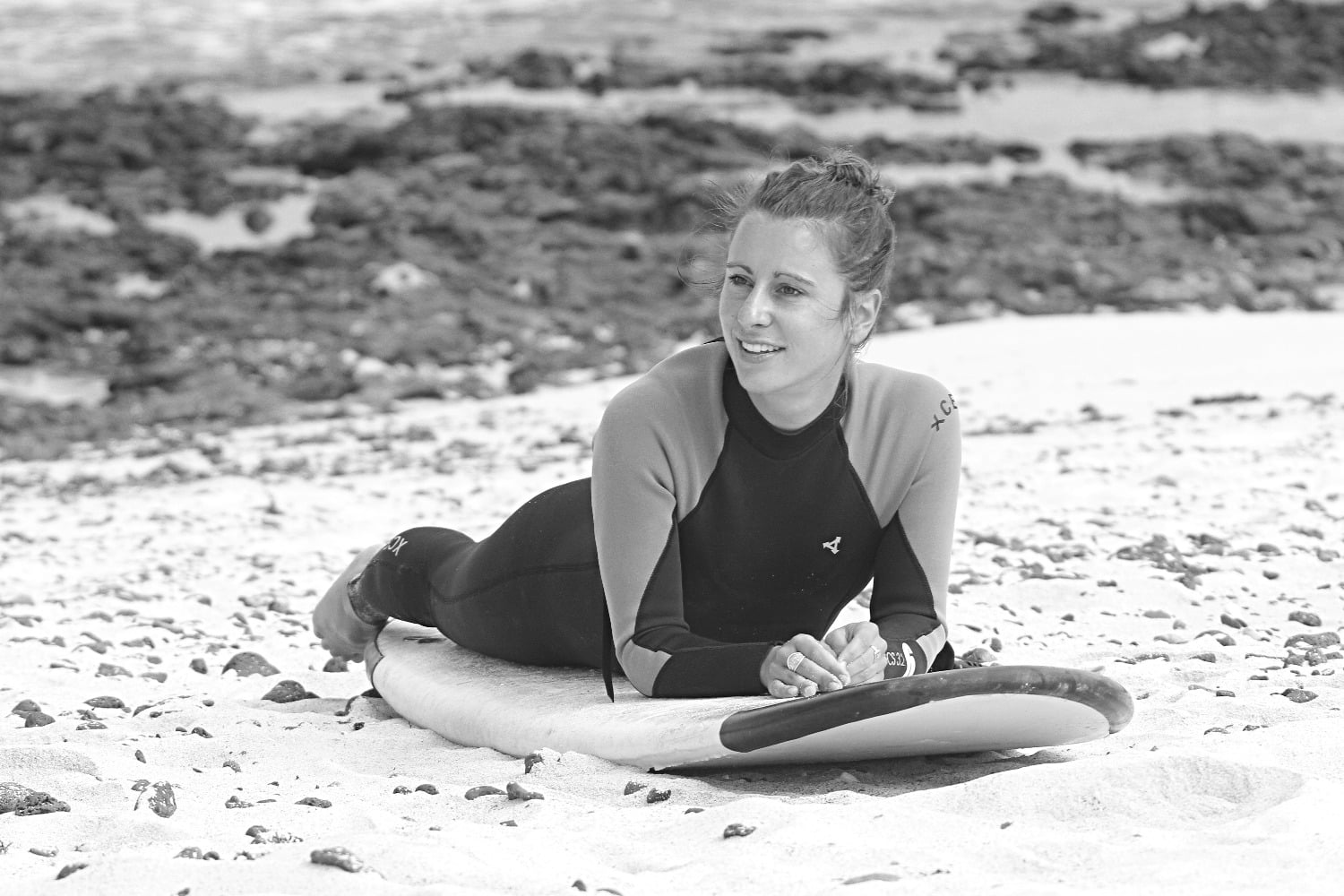 (Above: Candice Surfing in Fuertaventura)
To find out more about Candice, check out her Instagram here.
Or to donate towards TRIBE'S RUN FOR LOVE and support Candice on her journey click here
We hope you enjoyed this post! For more information on League Collective, get in touch via our email: [email protected]. We'd love to hear from you! and we will get back to you as soon as we can.